So, this post is all about food. Those of you who know me are not surprised, because food is one of my all-time favorite topics, and pretty much it's one of the highlights of my vacations. There was so much amazing food on the Disney Fantasy! Warning: you will be hungry after reading this post!
So, let's start with Cabanas. Cabanas is a buffet that serves meals throughout the day. Breakfast, lunch, and dinner are served up here. This is a great place to come for good food, fast. There is no dress code (many people were in swimsuits/cover ups), so it's easy to come and go throughout the day. The theming of Cabanas is so cute! You can find the Seagulls from Finding Nemo , and there is an amazing mural on the wall as well.
Food offerings at Cabanas range from fresh fish to burgers, delicious soups/salads, and great dessert options too. This is also a place where you can grab a fountain drink or iced tea 24/7. Oh, and coffee. It's always time for coffee...
Cabanas is busiest at breakfast and lunch, and there are a couple of hours each day where it will close down to switch food offerings. Not to worry, though! If Cabanas is closed, there is still food to be had out on the pool deck (Deck 11). Just stop by Flo's V8 Cafe for a great assortment of sandwiches, salads made to order, and of course, Luigi's Pizza. Themed much like Cars Land in Disney's California Adventure, this a great place to grab a quick lunch or a snack. Yes, pizza is completely legit as a snack on a cruise. :) I should know...
Of course, there are also a lot of sit-down dining options. Disney Cruise Lines features a one-of-a-kind rotational dining schedule. There are 3 dining rooms, and your cabin/dining group moves among all 3 throughout the week. the great thing is that your serving staff moves with you. I have to say that we were blessed with the most awesome duo with Maria and Sanaaj! I was sad to leave them at the end of the week.
Onto the sit-down restaurants. Let's start with Royal Court. This is what I would call the "fanciest" main dining room. There are gorgeous mosaics featuring the Disney princesses with their princes, and the scenes from the movies are beautifully recreated. There are special touches everywhere, including the pumpkin carriage light fixtures scattered throughout. The atmosphere is quiet and regal, and of course, the food is served beautifully. You can also dine here for breakfast or lunch, if you prefer a sit-down style meal. We did both at some point throughout the cruise, and it was so delicious!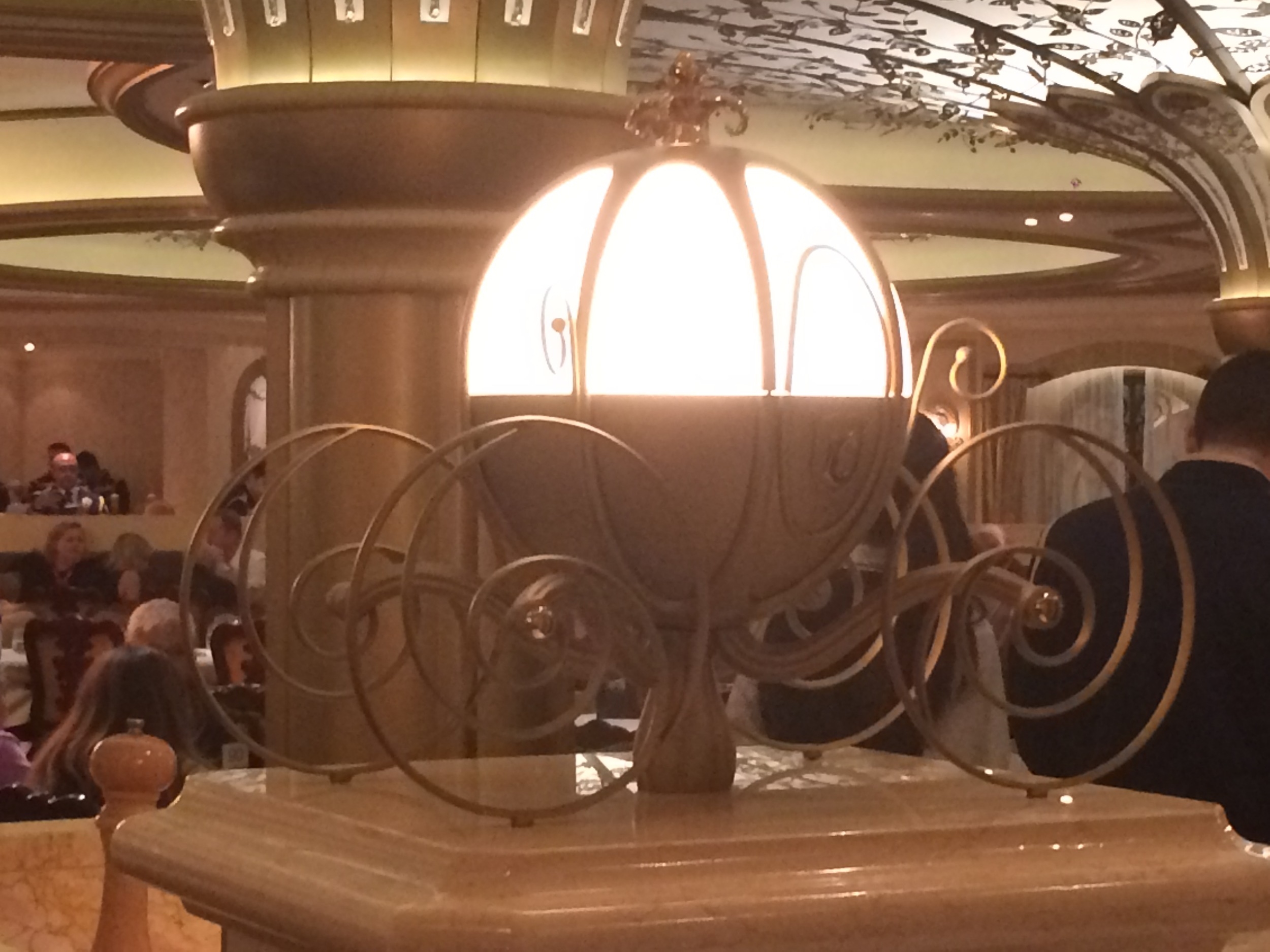 Another of the sit-downs is the Enchanted Garden. This is a whimsical, garden-themed venue filled with flora and fauna. And as you dine, you watch the daylight fade to twilight... And that is when the light fixtures "bloom". No seriously they do! I really enjoyed the look of this one. This is another choice for breakfast on certain mornings.
Perhaps the most talked about dining option is Animator's Palatte. This restaurant is extremely interactive! On our 7-night cruise, we had 2 totally different experiences. The decor looks like an artist's studio, and you are surrounded by your favorite animated characters... on shelves, on screen... everywhere! And throughout the evening, the palattes on the ceiling change.
Our first dining stint here involved your favorite turtle and mine, Crush! I don't want to give too much away, but let's just say that we had Crush speaking Pittsburgh-ese! If you do not know what that is, well, be glad hahaha! The second night we dined in this location, we got to take part in be the animators! It was amazing to watch things come to life right in front of us on the screen. We even got credit for our work! Both evenings were so much fun. They were unique in ways that simply must be experienced to appreciate them fully.
Now, back to the food. :) AMAZING. Here are some of the options. I think my hands down favorite was the Chilean Sea Bass. I could really go for some of that right about now... Oh wait, sorry, I digress.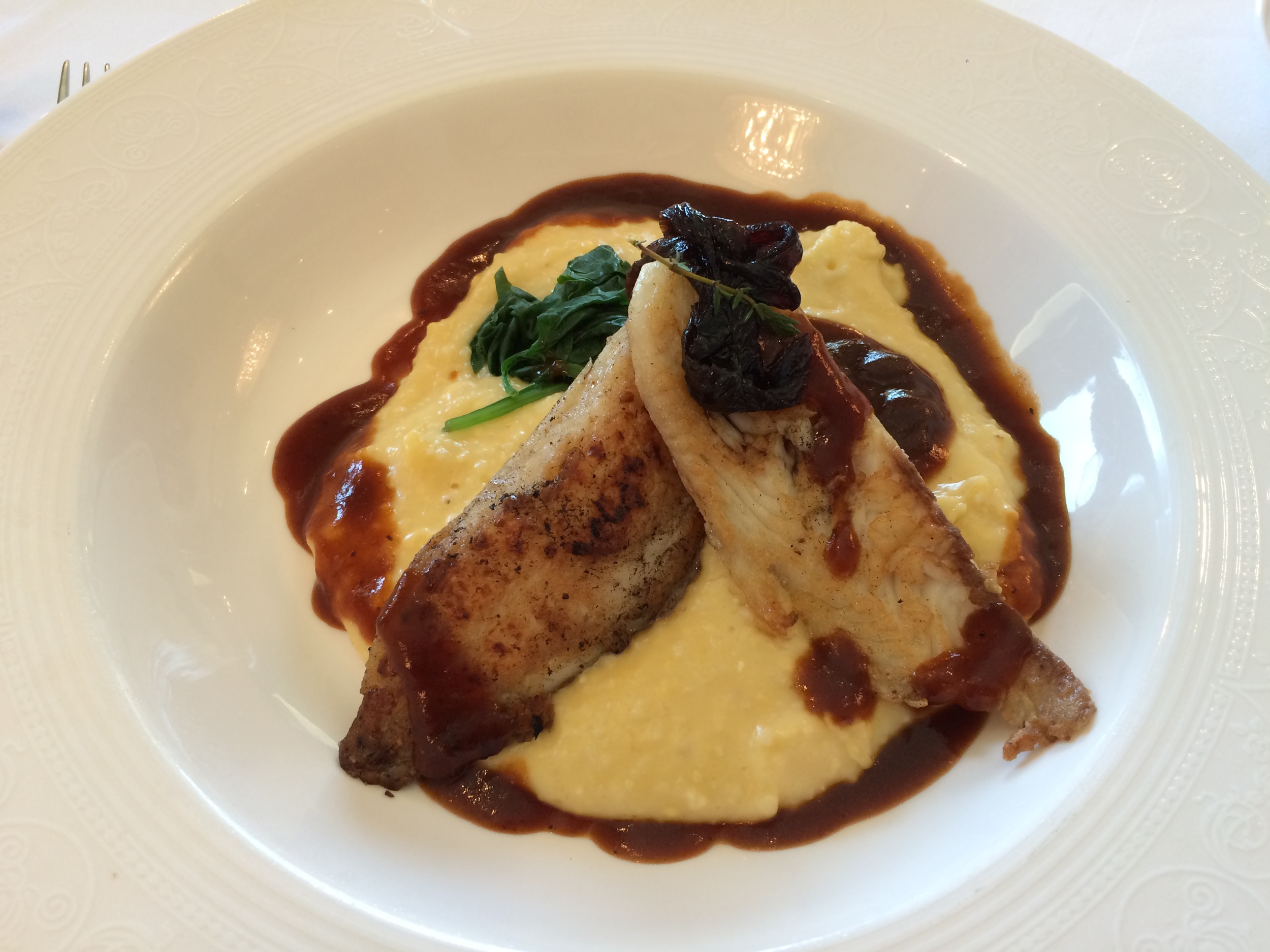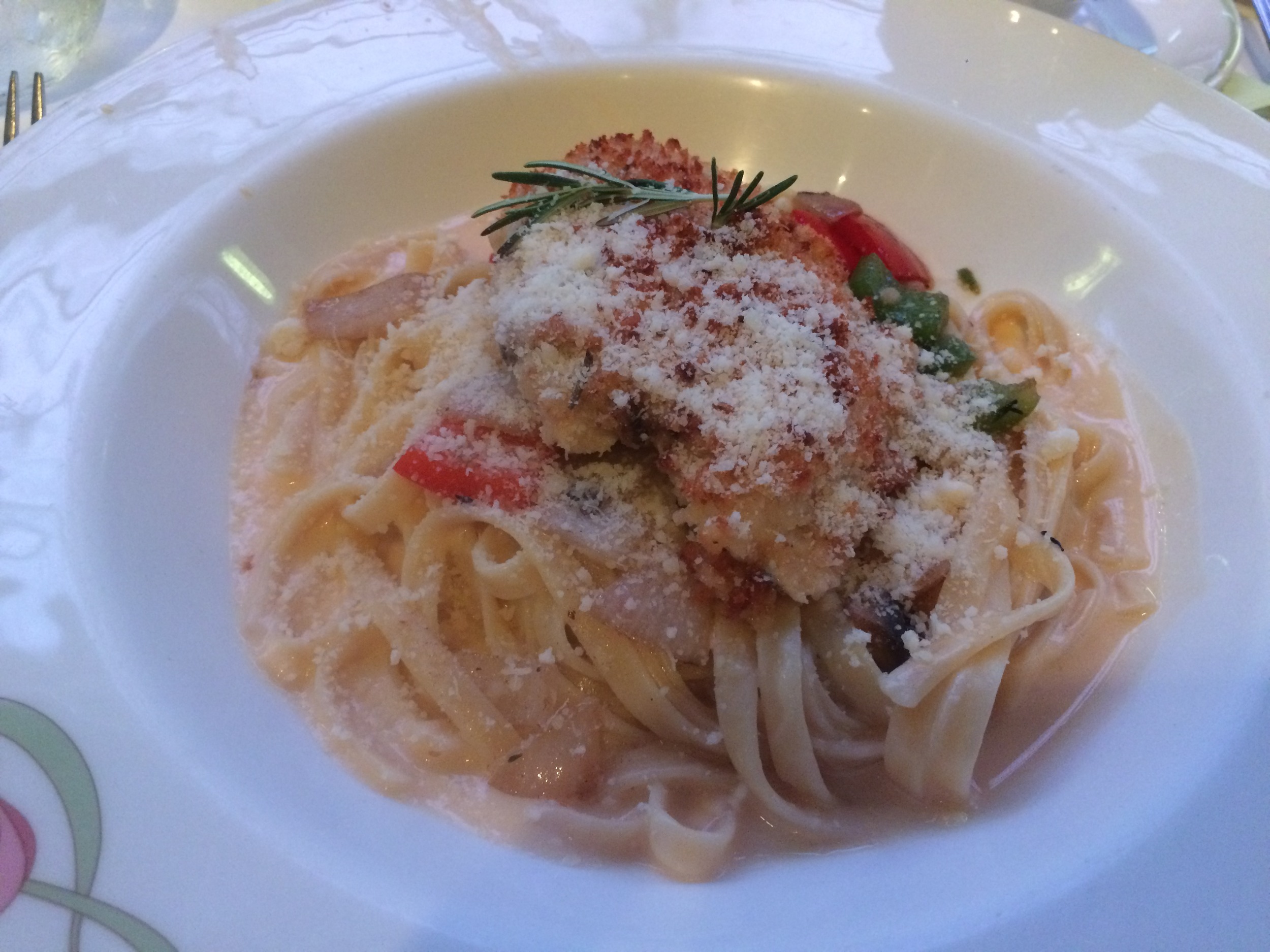 Although your dining experience changes each night, all three restaurants will serve the same evening menu, so you needn't worry about missing out on a great entree that any be served elsewhere. That being said, each night's menu was different, and it was even themed to some degree. On the Fourth of July there were special patriotic offerings (the apple pie sundae was phenomenal). Pirate night boasted dishes with swashbuckling names... And it was all delicious. Honestly top-notch in my opinion. The best part? You can have as many entrees or desserts as you like. I may have had 3 desserts one night... Ok I did. (one of these was Brady's...)
But maybe, just maybe, you think you want to relax on your verandah. Or you would rather have coffee while sitting in your PJs. Fair enough! That's why there is a great room service menu available all day! We ordered coffee and fresh fruit many mornings and enjoyed our ocean view. I should have taken a pic on an at sea day -- LOL!
Another fun thing to order is cookies and milk. These suckers are GINORMOUS and super tasty! What a great evening snack! Or breakfast... Or midday snack...
What about ambience, though? For those of you looking for a more upscale dining experience, the Disney Fantasy has two amazing options: Palo & Remy. Both require an upcharge; $30/person for Palo and $70/person for Remy. Reservations are required, and there is a dress code. We dined at Palo for brunch on our 2nd at sea day, so we got to enjoy the food and atmosphere while still dining at the Enchanted Garden in the evening.
I think Palo is hands down one of the best meals I have ever eaten. Inspired by Venice, Italy, the term Palo actually means pole - as in the poles used to power gondolas. The decor was impeccable, and the view of the ocean was exquisite. The service, too, was fantastic. She was attentive, but never hovered. First, the server talks you through the dining options and courses. Then, you head up to the buffet to sample as much as you like. And get this- the server fills your plate for you! Go hungry, because you will want to try everything!
Palo is known for their gourmet pizza, but since we were there for brunch, there were also scrumptious breakfast and lunch options. So, in the name of research, we tried it all! We started by splitting the rum raisin pancakes. Next, pizza! We got one and had them do half and half toppings to get the flavor of more than one option. Palo is also famous for their lasagna, so we split a portion of that in addition to our meals. My salmon was divine, and Brady loved his chicken parm. Thankfully, sizes are portioned to allow you to get more than one, so we could have room for dessert.
Speaking of dessert- making a choice here was even harder than at the appetizer buffet! There were at least two Nutella desserts... Clearly I had those. The cappuccino mousse and tiramisu were phenomenal, and Brady enjoyed all of his selections as well.
My advice? Make a reservation! They fill quickly, so don't wait! You can reserve a spot ahead of time, or you can call when you embark.
Remy is the other restaurant, and this one is French-style, themed after the movie Ratatouie. There were little nods everywhere to Remy, the French Chef Rat. A bit of trivia... In the movie, a patron orders a certain bottle of $35,000 wine. You can find this very same wine in the wine room here! If it's actually ordered, the rumor is that the Captain himself will come have a glass with you.
Although we haven't yet dined at Remy, we fully intend to next time we are on the Dream or Fantasy! A more full report will be offered then.
All this talk about food is making me hungry. I think I'll go get a snack. Until next time, friends...